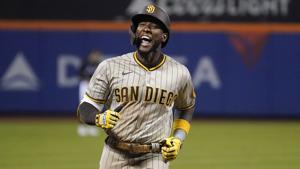 SCOTTSDALE, Ariz. — The Rockies are signing veteran outfielder Jurickson Profar to a one-year deal, a major league source said, giving them needed outfield depth after a slew of injuries.
The deal is pending a physical. Profar is not currently in the U.S., and it's not known yet if he'll be ready in time for Opening Day. The season starts on March 30. 

Non-roster invite Harold Castro making a case for Rockies' opening day roster
Profar, 30, spent the last three years on the Padres and has eight years of major league experience. A switch-hitter, he hit .243 with 15 home runs last season. The Rockies were in need of help, with second baseman Brendan Rodgers and outfielder Sean Bouchard likely out for the season and their top prospects not quite ready for daily playing time yet. 
Profar will play left field and could be the team's new leadoff hitter. Kris Bryant, who played left field during his limited action last year, will move to right and Charlie Blackmon will primarily be the designated hitter. The Rockies are also planning more rest time for veterans this season, so CJ Cron and Bryant will also see time at the designated hitter spot. 
The move also gives the Rockies a more balanced lineup. They entered spring training with only four left-handed hitters on their 40-man roster, and two of those — switch hitters Nolan Jones and Michael Toglia — may not make the team out of spring training. Colorado, though, now has Profar who can hit from both sides, in addition to left-handed hitters Harold Castro and Mike Moustakas, two non-roster invites who are in line to be on the opening day roster. 
When Profar is ready, here's what their lineup could look like:
LF Jurickson Profar (switch-hitter)
2B Ryan McMahon (left-handed hitter)
RF Kris Bryant (right-handed hitter)
1B CJ Cron (RHH)
DH Charlie Blackmon (LHH)
C Elias Díaz (RHH) 
3B Elehuris Montero (RHH)
CF Yonathan Daza (RHH)
SS Ezequiel Tovar (RHH)
With a bench that includes: Castro (LHH), Moustakas (LHH), Alan Trejo (RHH) and Brian Serven (RHH).