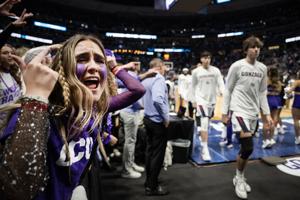 Set down the green beer and take a bow, Colorado. 
No one throws a basketball party for the NCAA Tournament better than Denver.
Without a Front Range rep on the court or a traditional blue-blood men's college program among the eight teams delivered to Ball Arena, four games over two sessions brought 38,301 March Madness fanatics into the LoDo arena.
The joint was rocking from early Friday and into Friday night on St. Patrick's Day.
Take Grand Canyon, a 14 seed, which brought a couple hundred students on a chartered jet from Phoenix to Denver Friday morning and pumped in an element of mosh-pit fun. 
The lone student section to show, the GCU students were loud, vibrant and one Lope provided an impromptu dance and lip-sync performance of "I Will Survive" that captivated the arena during one of the NCAA Tournament's notoriously elongated media timeouts.
Alas, Grand Canyon didn't survive. No. 3 Gonzaga made sure of that with an overpowering second half. It was a similar story when No. 3 Baylor faced a challenge.
There were no upsets or buzzer-beaters in the four games played in Denver on Friday. The higher seed won the first three games, a bonus since it sets up high-seed matchups for Sunday's Round of 32.
(Yes, that Denver session is sold-out, too. The Denver pod sold out in January again.)
What was instead on display was four games that went off without a hitch with a rhythm unique to this event.
A game would end, sections would reposition themselves. The announcing crew that included former NBA stars Avery Johnson and Steve Smith — tasked with calling the roughly 8 hours of action — would open their laptops and cram like they were preparing for a final.
Each fan base brought a slightly varied look and decibel level, but uniformity shouldn't be expected at an event where the Bears and the Antelope play, along with Bluejays, Horned Frogs, Gauchos, Bulldogs, Wolfpack and Sun Devils.
At what other event would an overpowering chorus of boos rain down when Gonzaga's Nolan Hickman stepped to the free throw line early in the second half? The reason for the boos? The giant Ball Arena video screen switched away during the final minute of the Purdue vs. Farleigh Dickinson game. This error was quickly fixed and the crowd was able to see the final moments of the No. 1 Boilermakers' loss to the No. 16 seed.
This was a gathering deeply invested in basketball, here and everywhere. And why not? It took a hefty investment just to get in the building.
Saturday, the nosebleeds in Sacramento were going for $94. Shoot, in Columbus you could score a seat for $38. In Denver? Try $281. And that was way up in the 300 level of Ball Arena.
Worth it.
March Madness fans were entertained even during blowouts. As Baylor pulled away from UC-Santa Barbara in the early session, the videoboard operator made like a great bartender and flipped on the final seconds of a taught Xavier-Kennesaw State game, giving 19,000 fanatics the best big screen ever.
The Ball Arena crowd was so good it deserves some awards.
Best outfit: NC State's pep band members, who dressed as "Where's Waldo."
Best disguise: Baylor's green-clad section blending into St. Patrick's Day.
Loudest fans: Gonzaga, of course. The calendar goes January, February, Gonzaga.
Best moment: Fresh off a season-ending loss, UCSB applauding its own rooting section.
"At UCSB, we're a family," said sophomore Ajay Mitchell.
Denver erupting for March Madness is nothing new, by the way. The 2016 tournament at then-Pepsi Center turned in the second-highest attendance of eight first-weekend sites.
Imagine the draw when there's Front Range representation on the court. Good news: the NCAA Tournament is scheduled to return to Denver in 2025. Get your tickets early.
tiktok followers–tiktok free–tiktok followers–tiktok free–tiktok followers–tiktok free–tiktok followers–tiktok free–tiktok followers–tiktok free–tiktok followers–tiktok free–tiktok followers–tiktok free–tiktok followers–tiktok free–tiktok followers–tiktok free–tiktok followers–tiktok free–tiktok followers