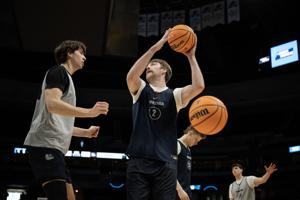 News and notes from Thursday as the NCAA Tournament came to Ball Arena and LoDo:
Nuggets great David Thompson is a legend at NC State, too, where he led the Wolf Pack to the 1974 NCAA championship. 
NC State recently honored the 1983 national champions coached by late Jim Valvano.
"We got everybody who was still living back to campus and had a great time with it," NC State coach Kevin Keatts. "Tradition is huge at NC State."
Thompson's No. 33 hangs from the rafters at Ball Arena.
***
Locals who have come to love Nikola Jokic's style of play should appreciate North Carolina State center DJ Burns Jr.'s game.
At 6-foot-9, Burns is a couple of inches shorter than the Nuggets' star center, but the Wolfpack's man in the middle is listed at a comparable 275 pounds. That's not their only similarity, according to Creighton coach Greg McDermott, whose Bluejays have to deal with Burns in their first-round matchup Friday.
"He's very unique, his skill set. He has vision like a guard and passing skills of a guard," McDermott said. "Not only does he get rid of it quick and get rid of it to the right spot, but it's to the right place. He's hitting guys in their shooting pocket where they can do something with it."
***
Gonzaga's become accustomed to having a No. 1 next to their name, but that isn't the case this weekend. The way senior guard Rasir Bolton sees it, that's not a bad thing for the No. 3-seed Bulldogs.
"From the pressure-level aspect, I would say it takes something off of us not really being a No. 1 seed," Bolton said.
The last time Gonzaga played in Denver — in 2016 with NBA All-Star Domantas Sabonis — the Zags were a No. 11 seed and upset Seton Hall and Utah to advance to the Sweet 16.
The Zags show 12 Sweet 16 berths, five trips to the Elite Eight and two appearances in the NCAA title game — all since 1999.
***
Realignment is shaking up college ball again. With UCLA and USC set to leave the Pac-12 for the Big Ten, geography doesn't matter anymore.
Gonzaga has been linked to a possible move to the Big East to join other like-minded universities that focus on basketball. Coach Mark Few did not shut down that possibility.
"We've got to measure out all these opportunities that are out there and figure ou what's teh best path moving forward to keep our program on the highest national level, which is where we're at," Few said.
***
The biggest Princeton fans outside the state of New Jersey were located at Ball Arena on Thursday.
As they awaited the start of Arizona State's practice, the school's pep band was cheering hard for the Tigers to upset ASU's rival, Arizona.
Turns out, it's been a banner week for Arizona State. The Sun Devils advanced out of the First Four, and their first sight in Denver was this:
No. 15 Princeton 59, No. 2 Arizona 55.
***
Long live 'The Shot.'
A few days after the 25-year anniversary of Bryce Drew's improbable game-winner to lead 13-seed Valparaiso past 4-seed Ole Miss in the first round of the 1998 NCAA Tournament, Drew is getting ready to coach his Grand Canyon team against Gonzaga on Friday in Denver.
"We had a group of six seniors that it was our third-straight NCAA Tournament, and we had lost the previous two years, and when we won that game, we were just so happy because that was our big goal going into the season was win a game in the tournament," Drew said. "So we had finally accomplished that goal after three years.
"So we were just so excited about that. We never dreamt that we would be 25 years later getting to answer a question about it."
***
Arizona State forward Devan Cambridge wore the gaudiest ring to grace Ball Arena.
A transfer from Auburn, Cambridge roamed the hallways in a diamond-studded ring on his right pinkie. This being his first season with the Sun Devils, what gives?
Cambridge explained it was the SEC title ring he won at Auburn and he wants his ASU teammates to see what's possible: "If you see it, you can achieve it."
***
One perk for a program that always wins in March: former players grow attached.
In 2016, Gonzaga played at then-Pepsi Center and former star Ronny Turiaf showed up in the locker room to root on his guys. This time the Zags are really keeping their guys close to home.
Zags great JP Batista, a powerful forward on a Sweet 16 team that featured Adam Morrison, is a member of the Gonzaga staff. Same for Zach Norvell, a shooting star on the Zags squad that reached the Elite 8 in 2019. 
***
Selection Sunday presented the best-case scenario for Homer and Janet Drew.
The parents of Scott Drew (Baylor's coach) and Bryce Drew (Grand Canyon's coach) will be in attendance Friday. Thanks to some handy seeding, they needn't worry their sons will face off against each other. Baylor and GCU were placed in different regions.
"We've scrimmaged Bryce before and my dad wore neutral colors, so he actually thinks about that stuff," Scott Drew said.
tiktok followers–tiktok free–tiktok followers–tiktok free–tiktok followers–tiktok free–tiktok followers–tiktok free–tiktok followers–tiktok free–tiktok followers–tiktok free–tiktok followers–tiktok free–tiktok followers–tiktok free–tiktok followers–tiktok free–tiktok followers–tiktok free–tiktok followers